A tasty project for akp at The Scotch Whisky Association
The Scotch Whisky Association recently re-located to a modern city centre office at the Quartermile in Edinburgh. akp Scotland was successfully chosen to act as the principal contractor to carry out the Fit Out works. We were delighted to be working with the design team of Jones Lang LaSalle, Michael Laird Architects and rsp consulting engineers on this extremely prestigious project.
The Scotch Whisky Association's role is to advance the global interests and profile of Scotch whisky, their members and the industry as a whole. The move itself was initiated to provide staff with a better working environment and showcase the industry as up-to-date and progressive but still rooted within its traditions.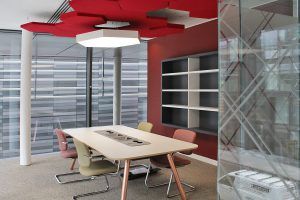 Work consisted of changing the first floor office space into a modern corporate headquarters. The facilities included a main board room, meeting rooms, communications room, kitchen, mailroom, storage areas and break out zones.
Acoustic plasterboard partitions were constructed to form the meeting rooms and double glazed partitions were used to front these, maintaining sound integrity.   Mechanical service alteration took place to ensure comfort cooling and ventilation.   Electrical alteration consisted of feature dimmable lighting throughout, fire alarm alterations, power and data links.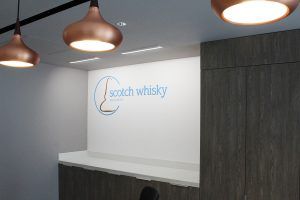 The breakout and kitchen areas have been designed as a place to relax in and feature colours used for flooring and walls. A large element of the project was bespoke joinery. A feature wall was constructed using timber, glass and LED lighting to display the various types of whisky manufacturers that the company represent. This was finished with feature graphics to the walls depicting the routes of the whisky trade. The reception area included a bespoke reception desk, coat store and feature lighting. The office area was finished with flooring and decoration.