Community Benefits at Bannockburn
Two visits by our BD & CSR Manager Roz Malcolm to local community initiatives in Bannockburn as part of the Bannockburn Library & Enterprise Hub Refurbishment we are currently undertaking for Stirling Council .
Pictured below are the amazing "Ladies of The Rock" a Community Larder and Support Group who operate out of the Bannockburn Community Centre offering fresh food, ambient food, pet food, toiletries, toys and clothes for members of the community who are struggling to survive in these challenging times.
Dorothy & Elaine two volunteers that help run the larder said that our donation of £200 would go a long way to supporting the cause and encouraged anyone with a local foodbank, that donating even a simple can of food from your cupboard can make a difference.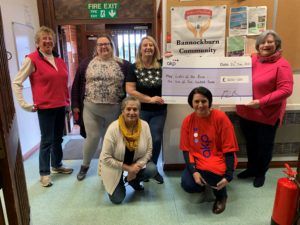 Pictured below Our BD & CSR Manager Roz Malcolm handing over a cheque for £200 to Bannockburn Rugby Club President Iain McEwan.
It is a priority of ours to engage the communities and local initiatives surrounding the projects we deliver. As such, our project to refurbish Bannockburn Library & Enterprise Hub has allowed us to meet and support some great causes, including the local Rugby Club, The Community Larder and the Community Christmas Lights arrangements.