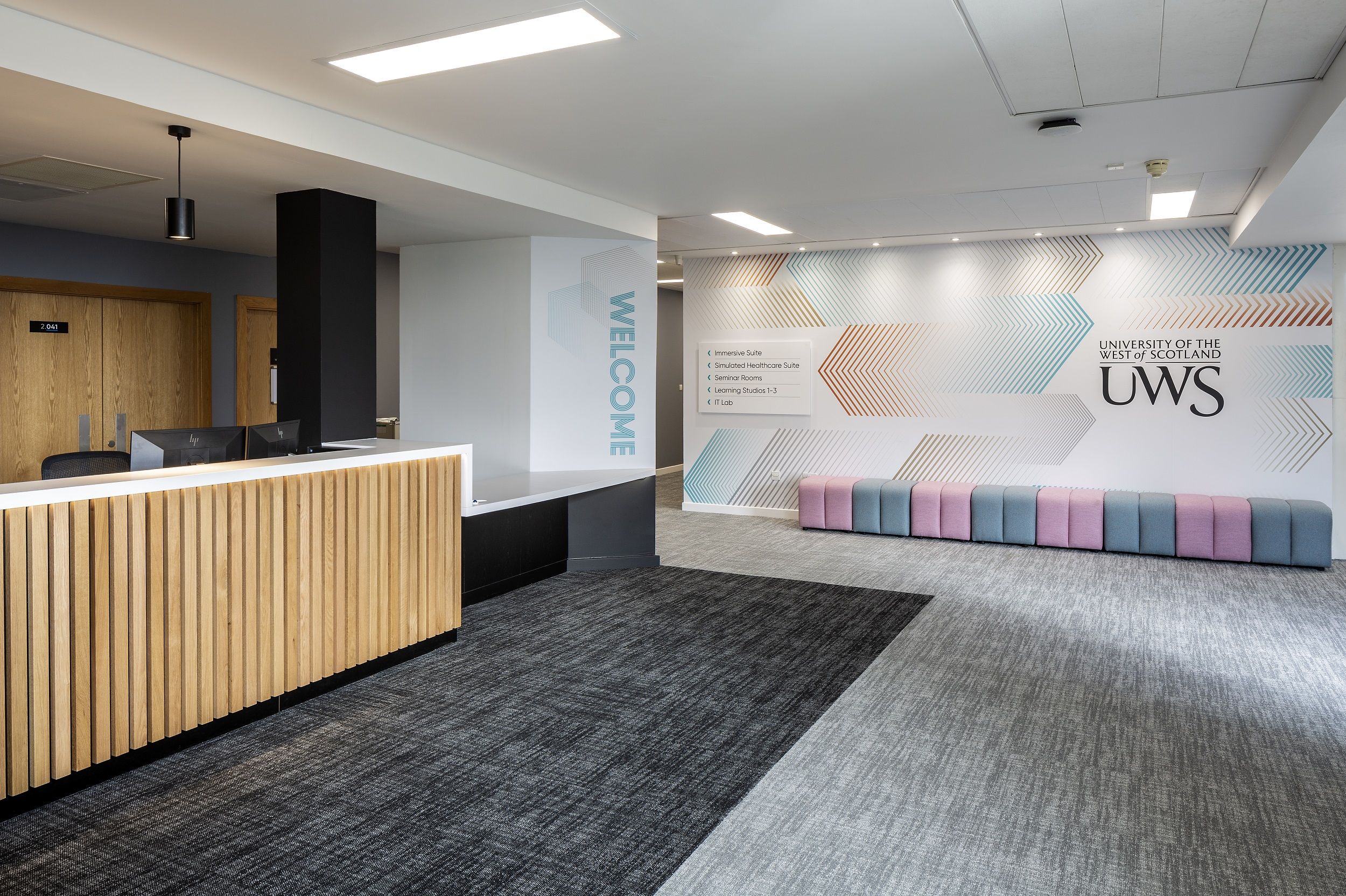 UWS Dumfries
Contract Value:
£1m-£3m
Timescale:
22 weeks
Location:
Dumfries
Sector:
Health
Life Sciences
Public Sector & Education
This is the third time we have worked with the University having previously delivered their CAT C packages and Laboratories Fit Out at their Hamilton Campus.
This project is the relocation of their Dumfries Campus to a new redeveloped wing within the existing Dumfries and Galloway College.
The works comprise of the internal refurbishment of existing space to provide specialist teaching facilities including mock hospital wards as well as teaching and lecture spaces. This includes alteration of existing and new partitions, glazed screens, internal finishes, fixtures, fittings, mechanical, electrical installations, etc.
The Dumfries & Galloway College building is situated on Bankend Road, Dumfries and is fully operational. It lies to the southeast of the UWS Dumfries campus and also other buildings associated with Scottish Enterprise. The location is generally within a rural environment, although there are some residential and commercial premises to the north.
Arrival at the new University of the West of Scotland Dumfries campus features a welcoming, modern reception with way finding and branding, designed in collaboration with the UWS team.
The flexible, modern teaching areas and learning zones; open study spaces and a new IT studio provide collaborative learning environments for both students and staff.
A key facility at the campus is the innovative immersive learning suite, designed to enable a 360-degree video to simulate a range of complex indoor and outdoor scenarios allowing students to respond to real-life situations in a safe and controlled setting.
Marcus Ross, Vice-Principal (Planning & Recruitment):
"The campus has been designed to offer modern and contemporary learning environments; ensuring that our students have access to the best facilities possible."